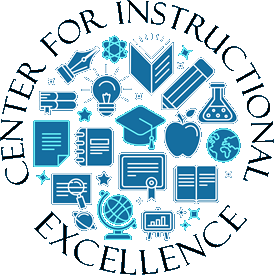 The Center for Instructional Excellence elevates teaching and learning through training and promoting of continual enhancement and improvement of instruction; encouraging development of exemplary teaching and learning environments no matter of modality, providing technical and instructional design consultation and support.
What We Do
We provide instructional based support for faculty who teach at Brazosport College (whether on-campus or online) through certifications, programs, trainings, and consultations with our instructional designers and technical support staff.
Consultations
We offer one-on-one or group consultations in-person or virtually via Zoom.
Instructional Designers
If you need help identifying the best plan of action in enhancing an old course or developing a new one our instructional designers can help accomplish your goals.
Contact: Phone 979-230-3494 (AOS) |Email: bryan.brown@brazosport.edu or jennifer.poland@brazosport.edu
Technical Specialists
If you would like to discuss how best practices and strategies for using the Virtual Campus and online course tools can meet your course goals talk to our technical specialists.
Contact: Phone 979-230-3594 | Email: angela.elder@brazosport.edu
Contact: Phone 979-230-3640 | Email: brandon.lam@brazosport.edu
Three-Phase Course Design Program
As part of the campus-wide mission to incorporate instructional design principles with existing instruction to provide students with learning opportunities to deepen knowledge and promote academic success, the Center for Instructional Excellence (CIE) will collaborate with faculty across disciplines to develop and enhance courses to bolster the learning experience for our students.
CIE is dedicated to the continuous assurance all courses incorporate up-to-date instructional design strategies and techniques proven to promote student engagement and success, such as:
Using early connect intervention strategies to identify struggling students
Incorporating active learning activities to foster student engagement and collaboration
Adhering to accessibility standards to promote course usability for all students
Courses will be selected each semester from multiple disciplines to go through the Two-Phase Course Design Program. During this process, CIE instructional designers work closely with instructors to assist in the development and integration of strategies and tools to promote student engagement and success in every phase of the learning process.
The Three-Phase Design Program
Program Objectives

By the end of the program, faculty will be able to:

Apply the Quality Matters (QM) Rubric in the review and design of their course.
Apply the concept of alignment to courses to ensure assessments and instructional materials are varied and supportive of learning objectives or competencies.
Develop courses that are accessible and usable for all learners.

Time Commitment

2 semesters (with checkpoints throughout the third year). Program starts the 2nd week of the semester.

Read the Three-Phase Course Design Program document for detailed information.
Teaching Online Certification
Our Teaching Online or E-Learning Certification assists faculty in the transition from teaching in a face-to-face environment to online. Although building and teaching a course online involves the same principles, concepts and mechanics as any course, it is the way in which one approaches the process that differs.
The certification introduces faculty to not only online pedagogy, methodology, and quality standards, but also the technological mechanics behind managing and developing an online course.
Starting the Program
The entire certification must be completed PRIOR to teaching any hybrid or full online course. So we highly recommend beginning the program no latter than a semester before you plan on teaching online.
The certification program consists of the following steps:
Signing an agreement form between division chair and faculty
Completing both:

E-Learning Online Course (64 contact hours)
Hands-on Technical Trainings (8 contact hours)
 Visit the Teaching Online Certification section for more information.
Training & Resources
Training
If you are in need of Group training to help meet your departments' unique needs submit the Group Based Training Request form for groups of 2 individuals or more. These can done  either on-campus or virtual. Once your RSVP is received we will contact the requester to schedule a date and time for the session.
If you are in need of individual training either focusing course design or managing and working with online course tools contact the following:
Semester Based Workshops
Weekly workshop schedules are emailed through our instructor email list each semester. If you are not receiving these messages please email Linda.Mcconnell@brazosport.edu.
Resources
Additional resources are coming.
Virtual Campus & Support
Brazosport College's Virtual Campus is the portal used to access registered online courses, live support services, and resources. It is also the main access point to logging into our online learning management system (LMS), Desire2Learn (D2L).  
Faculty use the Virtual Campus to develop and manage their courses online while students participate in a wide variety of academic activities including viewing syllabi, participating in engaging activities, submitting quizzes, and viewing grades. Support for faculty teaching online and resources for their students can be found on the Distance Learning & Online Instruction page.